THE INSTITUTE:
National Skill Training Institute Kolkata popularly known as NSTI Kolkata situated on sprawling 30-acre  campus was established in 1961 as pioneer training institute under the aegis of DGT, Ministry of Skill Development & Entrepreneurship Govt. of India. Its former name – Central Training Institute for Instructors (CTI) was changed to ATI when the institute was upgraded with the launching of Advanced Vocational Training System (AVTS) programme in October 1977 with the assistance of UNDP/ ILO/World Bank. The uniqueness of this institute lies in its state of the art technology, hands on experience and constant transfer of expertise from the industries. It has modern and sophisticated labs and workshops equipped with latest trainer kits and machineries. It is one of the centres of excellences developed under World Bank Project of Govt. of India.
LOCATION:
N.S.T.I. Kolkata is located at Dasnagar, Howrah, adjacent to the Howrah Industrial Estate and about 9 km. From Howrah Railway  Station. It is well connected through Local Trains and Road Transport.
COURSES:
Training Courses: a) Long term Training course
                             b) Short term Training course/ Tailor-made Training course.
The Institute offers the following long-term courses:
1. Craftsman Training Course (CTS) of one/ two year's duration in the trades Foundryman/ IoT Technician (Smart Agriculture)/ Machinist/ Machinist-Grinder/ Technician Mechatronics. Selection is made on merit basis and reservation of seats is made as per Govt. rules.
2. Craft Instructor Training Course (CITS) under Annual Pattern Trades are: Carpenter, Computer Software Application, Draughtsman Civil, Draughtsman Mechanical, Electrician & Wireman, Fitter, Machinist and Operator Advance Machine Tool, Machinist (Grinder), Motor Mechanic Vehicle, Mechanic Machine Tool Maintenance, Refrigeration & Air Conditioning, Reading of Drawing & Arithmetic, Foundryman, Sheet Metal Worker, Turner, Welder. Entry qualification for CITS is passed in NTC/ NAC/ Diploma/ Degree in the relevant Trade.
3. For all the long-term courses Academic session starts from August each year. Advertisement for admission is generally published in May/June in all leading newspaper & website. Application for admission are generally made in June each year through online (https://nimionlineadmission.in/).
 N.S.T.I. Kolkata offers short-term courses as regular or Tailor made or need based of 1 to 2 weeks duration in Advanced Skill areas in order to upgrade and update the skills of serving industrial workforce/associates, Technicians and the first line supervisors and managers to become specialized in their field of work. At present, the institute offers courses in the areas of Pneumatics & Hydraulics, Micro Computer & Industrial Control, Electrical Maintenance & Electronics Control, Heat Treatment & Material Testing, Advanced   Welding, Equipment Maintenance System, Automobile, Computer & Its Applications and Carpentry. The institute also offers Tailor-made/ need based courses suiting specific needs of industrial establishment. The specific training programmes offered by the institute are detailed overleaf.
Programmes for Instructors deputed from state Directorate of Employment and Training are conducted as per DGT Head Quarters instructions/guidelines/norms.  
QUALIFICATION FOR SHORT TERM TRAINING PROGRAMME:
Interested candidates having ITI, Diploma & Degree in relevant trade may apply for this program. Qualification is relaxable for deputed candidates.
FACULTY:
The institute has its own faculties well trained in India & abroad Faculty having diverse experience so as to bring academic concept and skill orientation to the practical problems faced by the industrial Workforce and Technicians. Experienced industrial experts are also engaged to conduct training programmes to supplement the in-house faculties.
FACILITIES:
1. A modern workshop equipped with conventional and sophisticated machineries & equipment.
2. Well-equipped laboratories in the area of Metrology & Inspection, Electrical and Electronics field.
3. Audio-Visual Laboratory equipped with most modern audio-visual equipment and computer.
4. CNC workshop, Hydraulics and Pneumatics controls labs and Industrial automation (PLC based).
5. Well-equipped Library contains latest technical books & magazines and ISI publications.
6. Well-equipped welding shop.
7. Well-designed modern Committee Room.
8. Well-designed modern Auditorium.
9. A well-designed Gymkhana for trainees.
GENERAL INFORMATION OF SHORT TERM /TAILORMADE TRAINING PROGRAMME:
A. APPLICATION AND REGISTRATION
RESERVATION: Deputed candidates will be given first priority as per DGT norms and remaining seats, if any will be allotted to the eligible private candidates with reservation for SC/ST/PH candidates as per Govt. rules.
1. Candidates willing to join AVTS Programs are to apply in the prescribed form and deposit registration fee before starting of the programme.
2. Cost of Application Form & Registration fee Rs.100/-
3. Gymkhana fee Rs. 10/- for  Regular Course AVTS and  Rs.15/- for Tailor made program candidate (to be paid by cash only)
4. Instructors deputed from state Directorate of Technical Education from any state are being given priority and are exempted from tuition fee payment.
B. SCHEDULE OF FEES AND OTHER INFORMATIONS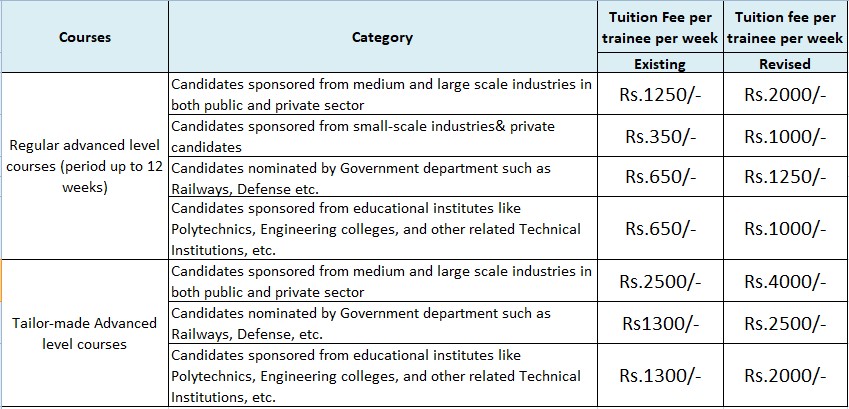 3)
1. Hostel facilities: Modest hostel accommodation is available according to availability on first come first serve basis at the rates stated below. Both vegetarian and non-vegetarian Canteens are run by the trainees themselves.
2. Hostel seat rent: @ Rs.100/- per day per person for short-term course. All the trainees and the sponsoring institutions are required to remit the tuition fees and hostel seat rent by cash at the time of admission. Gymkhana fee is to be paid separately by cash only. No family accommodation is provided for any participants. Ladies accommodation is available for lady participants.
3. Industrial Tour: The participants should be prepared to go on industrial tour at their own cost if deemed necessary by the institute.
4. Certification: Certificates will be awarded to the trainees on successful completion of the course.
5. Methodology: Theoretical lectures, Demonstration and practice on sophisticated tools and equipment, discussion, shop talks, use of A.V. Aids, case study, visit etc.
6. Training timings: Weekdays: 9.30 hrs. To 17.00 hrs. With 30 mines. Lunch Break (from Monday to Friday) 5 days a week.
7. Relieving of participants: By 17.00 hrs (AN) on last working day of the week as per training schedule.
8. Attendance: 80% Attendance is required otherwise certificate will not be issued.
9. Shoes are compulsory to enter into the workshop of this Institute
APPLICATION FORMAT FOR AVTS/ SHORT-TERM COURSE
1. Name of the course & duration:
2. Name of the applicant (in block letter):
3. Father's /Husband's Name   :
4. Date of Birth:
5. Whether SC/ST/OBC/PH/ EX - Serviceman:
6. Postal Address:
7. Contact No.:
8. Academic Qualification:
9. Technical Qualification:
10. Whether Employed/ Unemployed:
11. Experience:
Date:                         ___________________
Place:                        
Signature of applicant
Encl.:
* For all communication please address to:                                 
The Regional Director,                                                            
National Skill Training Institute Kolkata            
Dasnagar, Howrah- 711105, (W.B.)                        
Tel. No. Office (033) 2653-1225                                            
E-mail: atihowrah@hub.nic.in